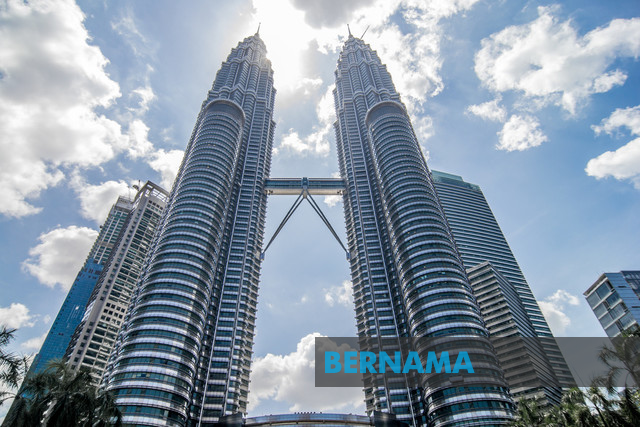 KUALA LUMPUR, Oct 11 -- Following are the highlights of the Economic Report 2020:-
- Prospects for the Malaysian economy remain robust amid increasing uncertainties in the external environment with the country's real gross domestic product (GDP) expected to grow by 4.7 per cent and 4.8 per cent in 2019 and 2020 respectively.
- Global growth is expected to remain modest moving forward, supported by solid domestic demand in emerging market and developing economies (EMDEs).
- The government places a premium on economic growth with widespread use of new technology along with private investment in high-value, high-technology and knowledge base areas to drive the nation towards high-income status.
- Inflation is projected to expand two per cent in 2020 mainly due to the expected introduction of targeted fuel subsidy.
-The federal government is expected to raise gross borrowings of RM135.2 billion or 8.9 per cent of GDP in 2019. Of the RM132.5 billion, 94.5 per cent or RM127.7 billion comprises domestic borrowings, while the remaining RM7.5 billion is offshore issuance.
- The overwhelming response to the government's Samurai bond issuance reflects strong confidence among Japanese investors on Malaysia's economic fundamentals.
- In 2020, overall gross exports are expected to expand 1.0 per cent from the anticipated improvement in global trade activities and the uptick in the electrical and electronics (E&E) cycle.
- The country's monetary and financial conditions are expected to remain accommodative and supportive of economic growth, with operations to be supported by vibrant money and foreign exchange markets, as well as intermediation activities.
- A total of RM297 billion or 18.4 per cent of the GDP will be allocated for Budget 2020, of which 81.1 per cent or RM241 billion is for operating expenditure (OE) while the balance of RM56 billion is for development expenditure (DE).
- The government has developed the Debt Sustainability Analysis (DSA) to conduct public and external debt sustainability analysis as a tool to better detect and prevent a potential crisis.
- The formulation of action plans to achieve the objectives of the Shared Prosperity Vision 2030 (WKB2030) requires an understanding of how the world and Malaysia would look like in 2030.
- Although digital assets, which include digital currencies and digital tokens, have garnered significant attention due to their potential disruption on the financial system, it is still a nascent and emerging sector where global and domestic adoption rates are still low.
- The government expects the 2020 fiscal deficit to be at 3.2 per cent of GDP, slightly higher than the 3.0 per cent originally announced in the 2019 Budget.
- The manufacturing sector is expected to grow 4.1 per cent by 2020, driven by steady improvement in the export-oriented industries coupled with sustained expansion in the domestic-oriented industries.
- The consolidated public sector's (CPS) financial position is anticipated to record a lower current surplus of RM42.2 billion in 2019, due to the allocation for outstanding tax refunds.
- The construction sector is expected to grow by 3.7 per cent in 2020, backed by the acceleration and revival of mega projects, as well as the construction of affordable homes.
-- BERNAMA